&nbsp
&nbsp
&nbsp




HAMMER OF THE GODS TOURNAMENT IN SUNNYVALE, CA 1/28/01

---





Laurence and Brandon square off during a non-playoff game.


Anna waits her turn.


Dennis kisses the cup.
---
Round Robin Rounds in Campbell,CA 1/27/01
LW gets top seed and First Round Bye
Without the 4th player in 2001's Hammer of the Gods Tournament, a round robin round between the 3 players determined the seedings and most importantly, the first-round bye. Best record in the round robin gets the top-seed and the first round bye.

Laurence Withschi easily dominated the pre-playoff competition. Winning 13 out of 19 games for a whopping .684 Winning Pct. LW heads into the final rounds for the second year in a row in confident stride.

Here are the following records and seedings:

LW 13-6 .684%
DK 10-8 .555%
BW 4-13 .235%

LW went on a tear winning 7-in-a-row, including 4 extra inning games during that stretch. In head-to-head matchups, LW beat BW 7 out of 9 times and beat DK 6 out of 10 times.


LW wins 7-in-a-row, on his way to a 13-6 round-robin round.
---
Semifinal Round in Sunnyvale, CA 1/28/01
| | |
| --- | --- |
| | DK sweeps BW 3-0 |
---
Finals in Sunnyvale 1/28/01

With a sour look on his face, LW hands over the Cup to the new champion.
DK defeats LW in Finals 4-1
In an eagerly anticipated rematch of 2000's Hammer of the Gods Finals, Dennis Kim this time prevails.
Game 1 SL vs BO (4-2)
Game 2 BO vs SL (5-2) DK
Game 3 BO vs SL (4-3 in 11 innings) LW
Game 4 BO vs SL (2-0) DK
Game 5 SL vs BO (3-1) DK

DK tosses a shut-out in Game 4 to put him up 3-1 in the best of seven series. A combined ERA of 1.80 over 5 games diminshed the power hitting sytle of LW.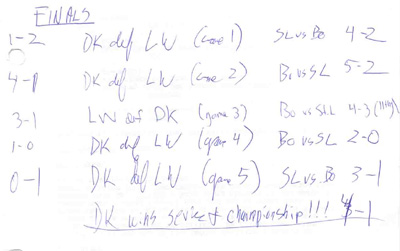 ---
|
Home
|
AVIs
|
Our RBI History
|
Early Years
|
Gallery
|
West Coast Rules
|
Immigrant Song
|
(6-18-00)
|
(1-28-01)
|
(7-08-01)
|
(2-03-02)
|
(7-28-02)
|
RBI Links
---